You will have to forgive me for abandoning my typical format, as today's article will be short and sweet. Bottom line: Buy Barrett Business Services ahead of earnings announcement after market close today. They are undervalued by 13%, even under pessimistic assumptions, and by 32% compared to their all-time highs, for no good reason.
BBSI Stock Valuation
I'll start where I usually end, which is with a DCF analysis. Here is the spreadsheet, with a following discussion: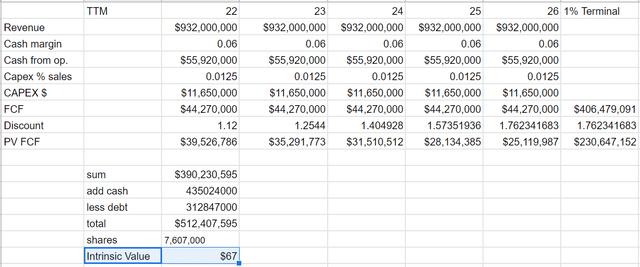 Notice the stable revenue for the next five years, an operating cash margin of 6% well below their long-term average (pandemic years with negative values ​​included) of 8.4%, CAPEX charges that amount to 1.25% of sales despite CAPEX historically representing only 0.72% of sales, a terminal value of only 1% and the high discount rate of 12% (my required rate of return ). Even in these dismal conditions, BBSI is still worth $67, well above its current trading level.
Barrett Business Services – Quarterly Expectations
Management was very optimistic about how it was set up to end the year. Third quarter revenue was up 8.5% from the same quarter a year ago, and if the same is repeated in the fourth quarter, it will post a record quarterly revenue of $253 million. This would bring their annual revenue to $951 million, also a record.
Given that their earnings are calculated as a percentage of the salaries of the employees of the clients they support, and given the fact that salaries and employment have both been strong lately, the likelihood of them hitting these record highs is very good.
Despite these high numbers, the stock is trading at a P/E ratio of just under 13. I expect significant multiple expansion based on strong earnings and healthy guidance.
It's also encouraging that at the end of the third quarter, they still had $31 million left on a share buyback program. With the stock having faced such a severe decline, I hope they were opportunistic to splurge while prices were low.
Other relevant developments
BBSI has signed new insurance agreements with Chubb in which they no longer assume the risk of paying claims to cover their clients' workers' compensation needs. This risk has been transferred and all liabilities associated with the underwriting of previous years will be gradually eliminated from the balance sheet. This greatly reduces the risks of the business model.
They further consolidated their branch footprint and transitioned to a leaner business model in terms of staff. This should allow the cost savings to accumulate over time.
Additionally, BBSI has introduced a new referral program where they can channel more opportunities. From the conference call:
Last quarter we discussed our longer term initiatives where we intend to increase the top of the funnel by focusing on lead generation through an omnichannel digital campaign where we target both customers and new reference partners in different markets. We are only four or five months away from the various trials, but I am delighted with what we are seeing and would like to provide some statistics since the last results call.

We recruited 82 new referral partners and organized 74 new meetings with interested potential customers. We are testing and refining our various sales initiatives by market, measuring return on investment and transporting the most successful method to our other markets. We continue to integrate our new technology into our national offering and we continue to see greater opportunities.
Finally, BBSI recently rolled out a new technology platform. It is through this vehicle that they will be able to increase their value proposition by offering new services, and subsequently justify charging more for what they do. From the CEO:
We built our portal with the idea that we own our technological destiny. Thus, we have the possibility to connect more products and services. Whether we're making improvements or increasing productivity in there or white labeling them and plugging them in. There is an unlimited potential of products and services that we can provide. And we have people working on executing that product roadmap so that we can ultimately have more stuff that we can sell to either make us more attractive or the company stickier. But we're not going to spill the popcorn until we toss these.
Conclusion
Forgive me for not being as thorough and detailed as usual. But since this update is time-sensitive, I favored brevity. Ultimately, BBSI is performing at a much higher level than its P/E indicates. If the results are as healthy as I expect, a multiple expansion is likely. Coupled with likely earnings growth through higher incomes and lower expenses, investors will benefit from considerable price appreciation.